TST Tin'Secret 庭秘密 AGELESS QUEEN YEAST FACIAL MASK 活酵母新生面膜乳 50ML
Dear Buyer, Read this before purchase.
1)We provide 100% original goods.
2)We get stock from ShangHai (China) HeadQuarter directly.
3)We are able fully refund if our goods are non-original. Thank You!
4)The QR code attached on product can check online to verify authentic purchased.
5)Each purchase will get Free Sample *3 pack (randonly).
Contact us: glamorousphilo@gmail.com
TST Yeast Mask/ Whitening / Repair damage skin / Anti Aging / Acne / Blemishes
这款庭秘密是台湾的产品,百分之百的纯天然酵母成分,
也就是酸奶成分,味道和喝的酸奶真的一模一样,
产品用法也非常奇特, 居然是像面膜一样用敷的,然后洗掉。

TST庭秘密活酵母面膜,是明星"张庭"老公"林瑞阳"先生,
在1994年一次去往法国的旅途中探寻到活性酵母具有复活肌肤年轻的奥秘,
并将其专利买断,带回台湾研究;1996年,
活酵母护肤品息诞生于台湾,因其必须保证温度低于25度配送,
所以未能市场化;经过研究人员对酵母贮存技术不断提高,
直到2014年,TST终于找到了能包裹酵母精华的"外壳",
它能在保证酵母活性的同时,不任其繁殖生长,
活酵母最终得以市场化。

活酵母是一种具有生命力旺盛的"活"性物质,
从新鲜纯牛乳中提取活性酵母菌,含大量奶蛋白、维生素、脂肪酸等多种高营养成份,当活酵母与肌肤接触时,酵母菌会钻入肌底在脸部肌肤游离,
吃掉毛孔中多余的粉尘油脂及污垢,并转化成高蛋白营养物为肌肤补充所需养分。
活性酵母能让肌肤细胞产生活化,刺激细胞生长,使胶原母细胞再生。
同时帮助肌肤恢复菌群平衡,给予肌肤最健康的状态。

真正活的酵母具有深层清洁、美白保湿、平抚皱纹、
淡化斑纹、补水祛痘提亮等功效,
在医用和美容上被视为重要价值。

一瓶50ml,用上20次以上,可以天天使用!

【TST活酵母面膜】为什么活酵母无激素但是功效却这么好?
因为它可以作为肌肤正常菌群存在,
抑制有害菌群的繁殖,保护肌肤菌群平衡不受破坏,
而让肌肤从根本保持健康状态。 根据实验和已用客户的反馈,坚持使用,
28天的肌肤代谢周期,就能看到一个不一样的你。

TST live yeast Mask The Secret Court
The world's first live viable care products live yeastLet you restore baby skin.


Yeast has enriched with organic elements that rejuvenate cells and provide nutrients for rejuvenation, boost cells growth while strengthen nutrients penetration, enhanced cells absorbent.

- remove dead cell
- brightening skin
- oil balancing
- whitening
- lighten spot
- reduce wrinkles
- improve acne skin
- pores Minimize


Usage:
Bottle 50ml, use more than 20 times.


Before use the products, please test on the neck or back of ear by apply a thin coat, staying about 15 minutes or so, without any discomfort you can use in the face.

Redness in facial skin ulceration status, skin diseases, skin allergies is not recommended to use.


For people :

Oily or Combination skin - recommendation a week 3 to 4 times
Dry skin - recommendation a week 2 to 3 times
Pregnant women - Recommendation a week 2 times


For Sensitivity skin apply 5 minutes, Dry or Combination skin 5-15 minutes, Normal or Oily skin 15-20 minutes, until the skin adapt, then slowly increase the time.


TST, 是活的,是有生命的保养品!是肌肤年轻的秘密~
TST萃取出新鲜乳中具有旺盛生命力的活性酵母。酵母菌是一种单细胞真核微生物,是有生命的!是不是非常神奇呢?
1活酵母涂在脸上后,酵母会进入皮肤吃掉皮肤废旧油脂,皮屑和垃圾
2酵母将吃的这些东西消化后吐出酶和蛋白,蛋白和酶正是肌底层细胞所需要的营养物质,这些物质会修复断裂的胶原蛋白
3活酵母就是让你细胞运动起来,改善新陈代谢,打开肌肤通道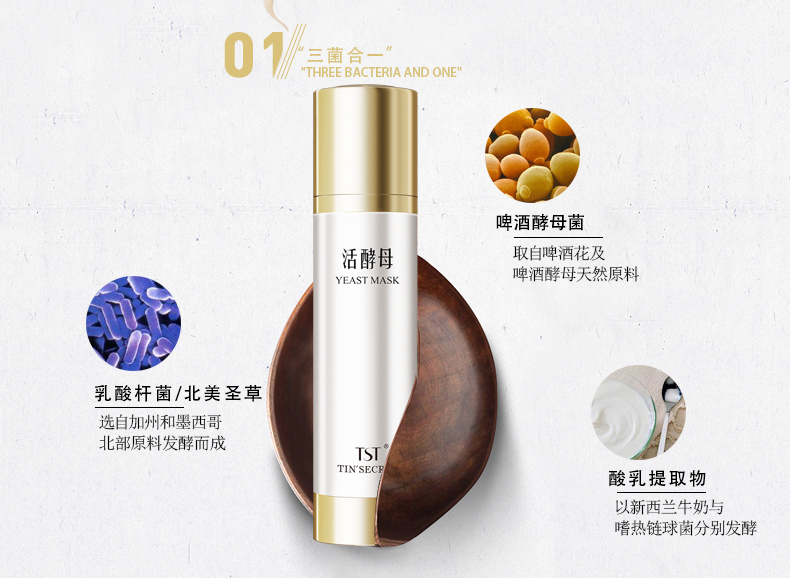 Recommended Weekly timetable for different skin types
# Sensitive*/Oily/Combination skin = 4 days in a row, followed by 2 days off
*For sensitive skin, you may choose to do it every other day
# Dry Skin = 2-3 times a week
# Pregnant Women = 1-2 times a week
Duration
Neutral skin = 5-10 minutes
Dry Skin = 5 minutes
Combination Skin = T zone 15-20 minutes. Cheek area dry 5 minutes, neutral 5-10 minutes
Duration can be longer, once you feel your skin has 'accepted' Yeast Mask, and if there is no signs of sensitivity/allergy after each use. Anyway, overnight use is not recommended. Cut the duration and/or amount in half if there are signs of sensitivity after use.
# Over 1 million Yeast Masks Sold
# Recommended by first class celebrities
# 7 days return – 19 years of research – 365 days of beauty consultation
Why Yeast MASK is a MUST?
# Brightening – Inhibits 60% or more of dark spots on face, due to melanin production
# Moisturizing – Lactobacillus improves skin's hydration
# Improve Acne Naturally – The mild acidity nature of yeast (PH 4.5 to 5.0), helps skin maintain a similar acidity level. It also improves oily/greasy skin, cleans facial pores and minimize enlarged pores to promote a smoother skin
# Maintaining Youthful Skin – Stimulates the proliferation of cells (collagen), cells activation and prevents ageing skin
# Skin Repair – Revitalizes damaged skin and skin cells
Lactobacillus – Moisturize
# Microaerophilic rod-shaped bacteria of California and northern Mexico, from the fermentation process
# Activates cells, stimulates regeneration of cells
# Anti-ageing
# Keep skin looking young
Brewer's Yeasts – Reduce Fine Lines Naturally
# Extracted from the natural raw materials of hops and Brewer's yeasts
# Prevent & erase wrinkles naturally
# Brighten up your skin
# Revive dull skin
Lactic acid Extract – Brighten & Lighten Dark Spots Of Your Face
# Extracted from the fermentation process of New zealand milk and Streptococcus Thermophilus
# Renowned for its anti-ageing capability
Moisturize and keep our skin hydrated all the time

Customer comments
| Author/Date | Rating | Comment |
| --- | --- | --- |
---