Skinny 22″ Slimming & Whitening 2 in 1 Functions Effective Pills 60s
Why should we spend more efforts on skin whitening and slimming, but our skin still looks dull and chubby?
Nowadays, many people prefer beauty products. This can save time and, more economic and effective if compare with others skin care products.
Along with Switzerland Biological Gene Extraction Technology and Swiss MTS Cell Decomposition Factor Technology, than developed Skinny 22 " whitening and slimming capsules. It can accelerate the absorption of beauty essence into our body in order to resist the calories absorption effectively , while balancing the structure of human nutrition.
The concept of 2-in-1 has shown its convenience, fast and effectiveness of whitening and slimming effect.
Clinical shown and proved that this 'scientific mash up style' is able to reduce fat accumulated in our body successfully. Its weight loss effect is overstepping the other weight loss ingredients that have been widely used in the market nowadays. This is called the genius invention of the weight loss history in the world.
2 in 1 Advance Technology from Switzerland
The Switzerland Biological Gene Extraction Technology – to promote the differentiation of epidermal cells in the body and increase the metabolic rate of new born cells. This can regenerate the skin cell tissues in order to reverse ageing, improve yellowish skin and inhibit the formation of dark spots from the inside out. Therefore, our body skin can become fairer and more elastic.
Swiss MTS Cell Decomposition Factor Technology – After converting the fat into acid, it will dissolve into carbon dioxide and water and excrete from the body through the lymphatic system. This can provides the effectiveness of medical weight loss effectiveness and safe for non-invasive weight loss, as well as guarantee no rebound effect after clinical response.

Main ingredients:
Rose extract – Skin Beauty
Rose extract is rich in nutrients that good for human health, such as fiber, glucose, fructose, sugar and lemon sugar. These can improve skin whitening, blood circulation, relieve moody, alleviate depression, resist free radicals, anti-ageing, eliminate fatigue and promote wound healing, as well as prevent constipation.
Pomegranate extract – Detox & Rejuvenate
Pomegranate has effectively used in slimming, beauty and so forth. It contains powerful antioxidant that can exert an excellent detox and rejuvenate effects, increase the metabolic rate of cell, reduce the blood pressure and insulin resistance. It contains multiple vitamins and minerals, which can filter out the toxins from our skin and incorporate with a stream of fresh energy.
Strawberry extract – Low in calories & gastrointestinal tract detox
Strawberry is an excellent detox fruit that is low in calories, contains pectin and also rich in dietary fiber. It has a remarkable effect on regulate cholesterol and lipid. In natural therapy, strawberries can be used to cleanse the gastrointestinal tract and also enhance the liver function.
Cherry extract – Kidney Detox
The fiber that derived from cherry has a smaller proportion but bigger volume, therefore it can easy to increase satiety, suppress appetite and reduce the calories intake. This makes our body can decompose and metabolism the food more efficiency, increase metabolic rate and promote fat burning. It can also enhance beauty effect, promote skin whitening and remove wrinkles.
2-in-1 Functions:
Whitening effect
~ Whole body whitening – inhibit formation of dark spots
~ Detoxification & rejuvenation – reduce blood pressure and insulin resistance
~ UV light neutralisation – skin repairing
Slimming effect
~ Burn fat – increase metabolism rate and burn fat
~ Suppress appetite – rich dietary fiber and increase satiety
~ Decomposition and metabolism of fat – shaping body with fast effect
*Disclaimer: Results may not be typical and results may vary according to individuals.
How it works?
1. Provide a protective barrier for skin cells to against UV damage
2. Inhibit tyrosinase that synthesis melanin to prevent skin darkening
3. An effective antioxidants that can neutralise and eliminate the harmful free radicals
4. Enhance satiety to reduce appetite
5. Rich in dietary fiber to promote the peristalsis of gastrointestinal tract and reduce the absorption of fat in the digestion process
6. Increase metabolism rate and burn the excess fat that accumulated in the body
Clinical trial for Skinny 22"
Clinical Test based on 100 Asian between aged 18-55.
*** Disclaimer : Individual results may vary.

Suitable for:
1. 18 years old and above
2. Regular sunlight exposure
3. Often stays up late
4. Dull complexion
5. Obese
6. Unbalanced diet
7. Unhealthy lifestyles
8. Lack of beauty and body care
Precautions:
1. Pregnant and breastfeeding women are not allowed to consume this product.
2. Children below 12 years old and patient with gastrointestinal disease are not allowed to consume this product.
3. This product is not meant for those who are below 18 years old and above 55 years old.
4. Do not consume this product if you are under medication.
Direction:
2 capsules daily before breakfast. Drink a glass of water after consume. Do not take more than recommended dosage.
Storage
1. Store in a cool dry place. Do not expose to direct sunlight.
2. Keep out reach of children.
Serving Size
2 capsules = 1000mg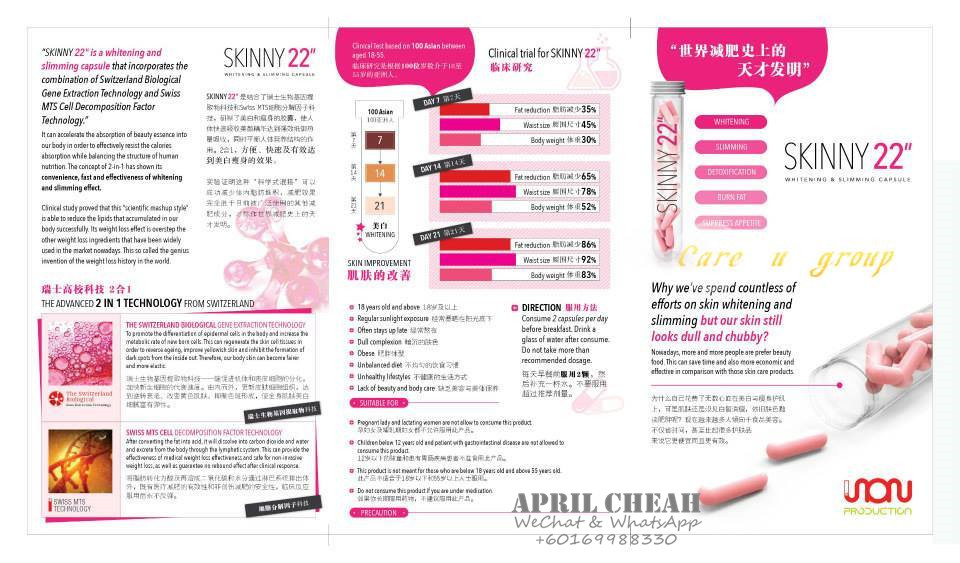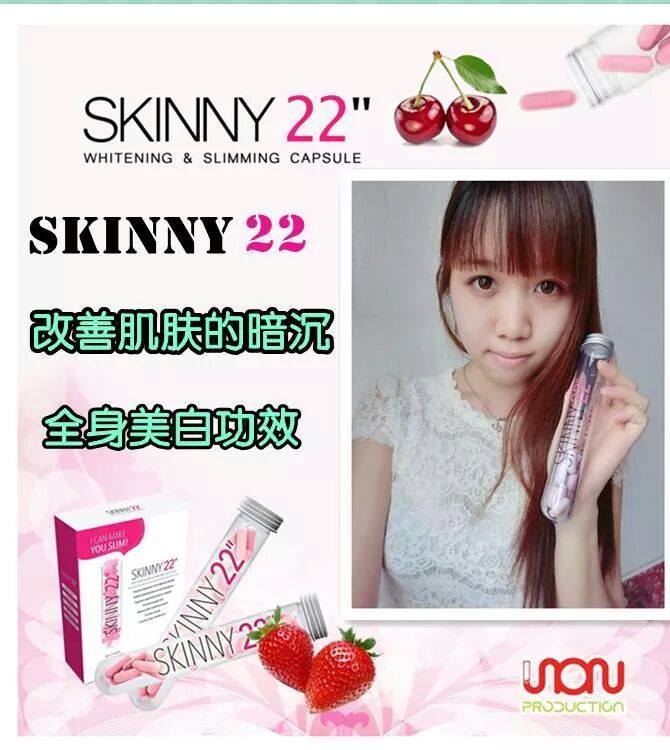 Customer comments
| Author/Date | Rating | Comment |
| --- | --- | --- |
---