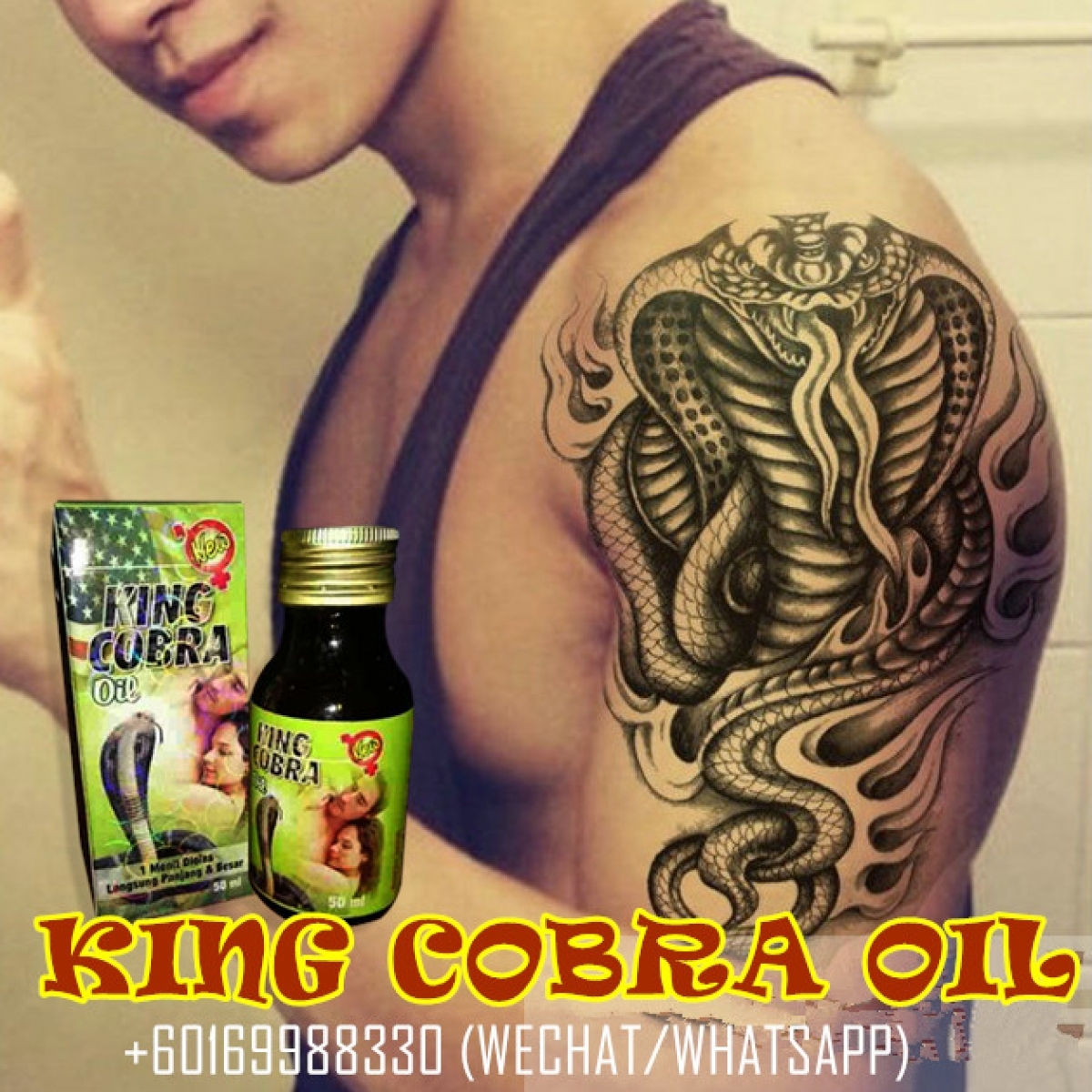 New Advance Formula King Cobra Oil For Man Level Up Sizes 50ml



King Cobra Oil is a special oil massage to the penis.Produced exclusively from herbs, King Cobra Oil was able to increase the size of your penis, strengthen your penis, helping men control premature ejaculation that often haunts every man and other nutrients again.

King Cobra Oil 
used 2 minutes every day either before a morning or evening shower.

Function King Cobra Oil
King Cobra Oil increase penis size
King Cobra Oil helps men fight longer
King Cobra Oil strengthens the muscles of the penis at the same timean erect penis is more robust
King Cobra Oil penile blood flow region

Methods Using Penis Massage Oil King Cobra
Massage from the base to the head of the penis to the right and left.Hold the skin at the base of the penis when the penis skin wrinkling or sagging. 
Do it 5 times a massage once a fist.A sort of base of the anus to the base of the testicles. 
Repeat 7 times.Press the sides of the hole with two fingers ring slowly. 
Repeat 11 times.Sort the groin up to the next half of the thigh and knee. 
Repeat 21 times.Rails at the base of the penis and massage out left and right and bottom.
Buat 7 times.The right hand holds the penis in the right thigh, slowly straighten your legs as much as 7 times.



King Cobra Oil merupakan minyak urut khas untuk zakar lelaki.
Dihasilkan khusus dari herba-herba, King Cobra Oil mampu menambah saiz zakar anda, menguatkan zakar anda, membantu lelaki mengawal ejakulasi pra matang yang sering menghantui setiap lelaki dan lain-lain khasiat lagi.
King Cobra Oil diguna 2 minit setiap hari sama ada sebelum mandi pagi atau mandi petang.
Fungsi King Cobra Oil
King Cobra Oil menambah saiz zakar
King Cobra Oil membantu lelaki bertarung lebih lama
King Cobra Oil menguatkan otot zakar sekaligus
membuatkan ereksi zakar lebih mantap
King Cobra Oil melancarkan peredaran darah dikawasan zakar
Kaedah Urut Zakar Menggunakan King Cobra Oil
Kaedah Urut Zakar Menggunakan King Cobra Oil
Urut dari pangkal hingga ke kepala zakar sisi kanan dan kiri.
Tahan kulit di bahagian pangkal zakar sekiranya kulit zakar anda berkedut atau kendur. Lakukan 5 kali urut sekali genggaman.
Urut dari pangkal lubang dubur hingga ke pangkal buah zakar. Ulang 7 kali.
Tekan di dua bahagian lubang cincin dengan dua jari perlahan-lahan. Ulang 11 kali.
Urut di celah kelengkang hingga separuh peha dan seterusnya ke lutut. Ulang 21 kali.
Susur di pangkal zakar dan urut keluar kiri dan kanan atas dan bawah.Buat 7 kali.
Tangan kanan memegang zakar melalui bawah peha kanan, luruskan kaki sedikit demi sedikit sebanyak 7 kali.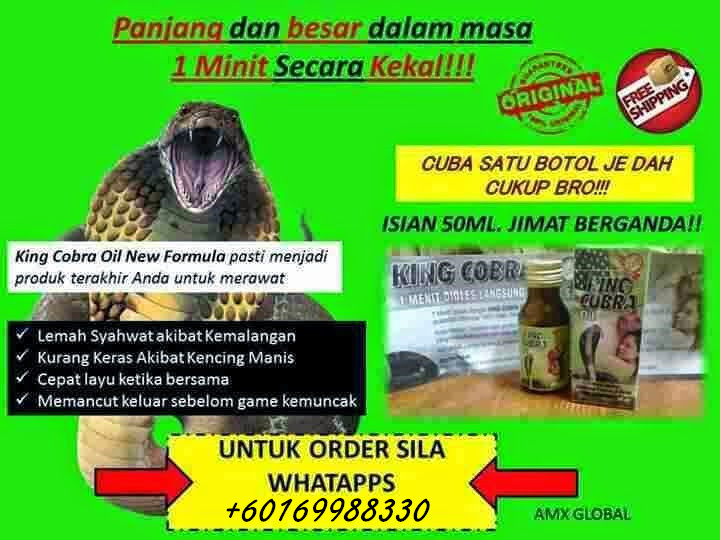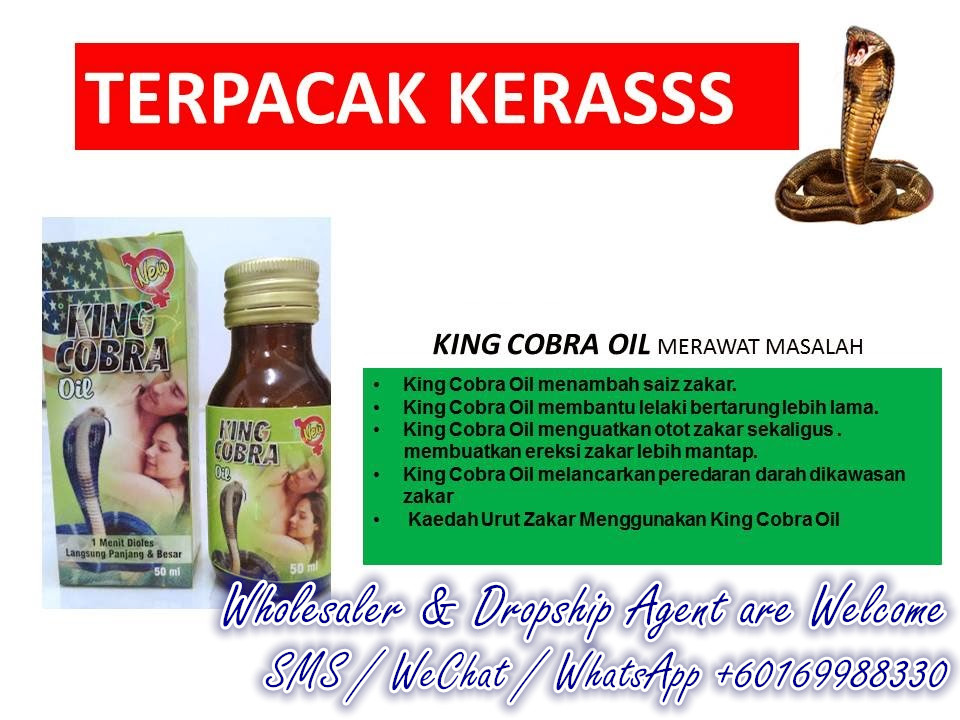 Customer comments
| Author/Date | Rating | Comment |
| --- | --- | --- |
---