Lady Mystery Hormone Balance Beauty Enhancing Powder 30's
Lady Mystery
Slogan: Blooming like a flower
Feature: 8 types of exclusively chosen flower; with refining production in order to produce the best lady skin care.

Our continual endeavor integrates the latest technology to produce "LADY MYSTERY", a skin care product which is suitable for every lady!
This is our promise to bring you the best. Your health is the best reward to us!

Ingredients:
Grappe powder, lime powder, soy isoflavones, kudzu, pueraria lobata, licorice extract, stevia powder, vitamin C
Active Ingredients:
Rose, kudzu, evening primrose, lily, red flower, jasmine, borage, lavender
Method of use:
Consume directly then drink a lot of water

Storage:
1. Keep at cool dry place
2. Avoid from direct sunlight, humidity or high temperature
3. Keep away from children

Note:
Not suitable for breastfeeding mothers, pregnant women and females below 18. Not recommended for patients of sebaceous cyst, breast cancer, cervical cancer or high risk group.

Effects:
Prevent uterine tube and urinary tract infections, tighten vagina and maintain the tighten level.
Breast enhancement, tone up breasts and hips
Balance hormones
Enhance the growth of breast cells and maintain health
Anti-aging, delay menopause
Reduce night sweats, hot flashes, sleep troubles and insomnia
Promote cell detoxification
Maintain beauty, improve skin texture

Active ingredient functions:
Rose is effective in relieving emotional problems and managing long term hormone imbalance. Rose can improve physical fitness, condition of flesh and physiology instead of balance endocrine. In addition, it helps in enhancing beauty and breast.
Kudzu is well known for its liver protection function. It can protect the liver, remove the body heat and improve skin texture and complexion.
Evening primrose provides linolenic acid( (which is needed by body) and GLA to maintain health and slow down the sign of aging. Evening primrose is also effective in boosting the immune system and anti-inflammatory.
Lily contains a variety of vitamin, mineral and nutrient. Lily can strengthen vitality, reparative deep levels of sleep and improve sleeping condition.
Red flower is the best choice in curing gynecological diseases. It can improve blood circulation and stimulate meridians thus relieve pain and remove the dirty blood in the body.
Jasmine is effective in whitening skin, restoring skin tone and anti-aging. Jasmine can keep your skin fair and young all the time. Its natural antibacterial properties can protect private part from bacteria.
Borage is rich in Omega 6 GLA, an essential nutrient for women, the most natural way to relieve the discomfort of menstruation and menopause and effectively regulate hormones. It can also adjust the female hormone cycles, delay menopause and improve the condition of endocrine disorders.
Lavender is used for calming, preventing nausea and dizziness, reducing anxiety and nerve migraine which can keep you in a good mood for the whole day.

Lady Mystery
1. Made from 8 different organic flowers which are planted under best environment. They are free from polluted land and air.
2. 500 flowers for every dose
3. 100% organic, natural. No preservatives, coloring.
4. Cold storage to keep fresh
5. Quality assurance from professional manufacturers
6. Certified and recognized by BPFK Malaysia and KKM
7. Company's goal: Your Health, Our Pride
8. Suitable for vegetarian
9. "COLDPRESS ARTTM " technology to retain 100% of the nutrient
10. Easy to consume and convenient to carry

Know more about "COLDPRESS ARTTM"
With the implementation of advanced technology, an essence of each flower is extracted 100% under the optimum temperature control. No heating throughout the process in order to retain its nutritional value. Then the essence undergoes a cold-pressure process for 168 hours until it transforms into crystal form. Lastly, crystalized essence is grinding into powder.
The whole process requires the integration of technology and skills. We have a group of professional to ensure every step has been taken with extra care and patience. Every 100g of Lady Mystery is extracted from 1 KG of flower so it is very precious. This is our promise for you to enjoy the product of finest quality.

Why female hormone so important?
Modern city-life involves a busy and hectic lifestyle which leads to hormonal imbalance. Let your hormone tells you what is wrong with your body.
Did the following symptoms appear in your body?
Look older than your actual age
Not feeling sexy
Female diseases (such as breast fibroma)
Put on weight easily
Menstrual cramp
Poor skin condition
Pigmentation on face
Easily tired
Trouble with Leucorrhea
Insomnia
Irregular periods
If 3 or more of above happened to you, it means your hormone is imbalance!

The secret to be young and healthy: Balance your hormone
Know what? There is no secret to be young other than balancing your hormone; you will be amazed by the significant changes that can happen to you! Apart from improving your health, you will notice a remarkable improvement on your physical appearance. Lady mystery provides a holistic approach to your skin by restoring your skin radiance and improving your skin smoothness.

Research has proven that: 3 key factors of hormonal balance
Diet –balance eating habit
Fitness-sufficient exercise per week
Health care product – Lady Mystery is what you need (provide and supply nutrient to your body rapidly)
Content: 30 sachet /box (1 month)
***We strongly suggest to take at least 3 months to get the best effect result, this product is no harm for long term consume.
Lady Mystery
Slogan: Blooming like a flower
Feature: 8 types of exclusively chosen flower; with refining production in order to produce the best lady skin care.

Our continual endeavor integrates the latest technology to produce "LADY MYSTERY", a skin care product which is suitable for every lady!
This is our promise to bring you the best. Your health is the best reward to us!

Ingredients:
Grappe powder, lime powder, soy isoflavones, kudzu, pueraria lobata, licorice extract, stevia powder, vitamin C
Active Ingredients:
Rose, kudzu, evening primrose, lily, red flower, jasmine, borage, lavender
Method of use:
Consume directly then drink a lot of water

Storage:
1. Keep at cool dry place
2. Avoid from direct sunlight, humidity or high temperature
3. Keep away from children

Note:
Not suitable for breastfeeding mothers, pregnant women and females below 18. Not recommended for patients of sebaceous cyst, breast cancer, cervical cancer or high risk group.

Effects:
Prevent uterine tube and urinary tract infections, tighten vagina and maintain the tighten level.
Breast enhancement, tone up breasts and hips
Balance hormones
Enhance the growth of breast cells and maintain health
Anti-aging, delay menopause
Reduce night sweats, hot flashes, sleep troubles and insomnia
Promote cell detoxification
Maintain beauty, improve skin texture

Active ingredient functions:
Rose is effective in relieving emotional problems and managing long term hormone imbalance. Rose can improve physical fitness, condition of flesh and physiology instead of balance endocrine. In addition, it helps in enhancing beauty and breast.
Kudzu is well known for its liver protection function. It can protect the liver, remove the body heat and improve skin texture and complexion.
Evening primrose provides linolenic acid( (which is needed by body) and GLA to maintain health and slow down the sign of aging. Evening primrose is also effective in boosting the immune system and anti-inflammatory.
Lily contains a variety of vitamin, mineral and nutrient. Lily can strengthen vitality, reparative deep levels of sleep and improve sleeping condition.
Red flower is the best choice in curing gynecological diseases. It can improve blood circulation and stimulate meridians thus relieve pain and remove the dirty blood in the body.
Jasmine is effective in whitening skin, restoring skin tone and anti-aging. Jasmine can keep your skin fair and young all the time. Its natural antibacterial properties can protect private part from bacteria.
Borage is rich in Omega 6 GLA, an essential nutrient for women, the most natural way to relieve the discomfort of menstruation and menopause and effectively regulate hormones. It can also adjust the female hormone cycles, delay menopause and improve the condition of endocrine disorders.
Lavender is used for calming, preventing nausea and dizziness, reducing anxiety and nerve migraine which can keep you in a good mood for the whole day.

Lady Mystery
1. Made from 8 different organic flowers which are planted under best environment. They are free from polluted land and air.
2. 500 flowers for every dose
3. 100% organic, natural. No preservatives, coloring.
4. Cold storage to keep fresh
5. Quality assurance from professional manufacturers
6. Certified and recognized by BPFK Malaysia and KKM
7. Company's goal: Your Health, Our Pride
8. Suitable for vegetarian
9. "COLDPRESS ARTTM " technology to retain 100% of the nutrient
10. Easy to consume and convenient to carry

Know more about "COLDPRESS ARTTM"
With the implementation of advanced technology, an essence of each flower is extracted 100% under the optimum temperature control. No heating throughout the process in order to retain its nutritional value. Then the essence undergoes a cold-pressure process for 168 hours until it transforms into crystal form. Lastly, crystalized essence is grinding into powder.
The whole process requires the integration of technology and skills. We have a group of professional to ensure every step has been taken with extra care and patience. Every 100g of Lady Mystery is extracted from 1 KG of flower so it is very precious. This is our promise for you to enjoy the product of finest quality.

Why female hormone so important?
Modern city-life involves a busy and hectic lifestyle which leads to hormonal imbalance. Let your hormone tells you what is wrong with your body.
Did the following symptoms appear in your body?
Look older than your actual age
Not feeling sexy
Female diseases (such as breast fibroma)
Put on weight easily
Menstrual cramp
Poor skin condition
Pigmentation on face
Easily tired
Trouble with Leucorrhea
Insomnia
Irregular periods
If 3 or more of above happened to you, it means your hormone is imbalance!

The secret to be young and healthy: Balance your hormone
Know what? There is no secret to be young other than balancing your hormone; you will be amazed by the significant changes that can happen to you! Apart from improving your health, you will notice a remarkable improvement on your physical appearance. Lady mystery provides a holistic approach to your skin by restoring your skin radiance and improving your skin smoothness.

Research has proven that: 3 key factors of hormonal balance
Diet –balance eating habit
Fitness-sufficient exercise per week
Health care product – Lady Mystery is what you need (provide and supply nutrient to your body rapidly)
Content: 30 sachet /box (1 month)
***We strongly suggest to take at least 3 months to get the best effect result, this product is no harm for long term consume.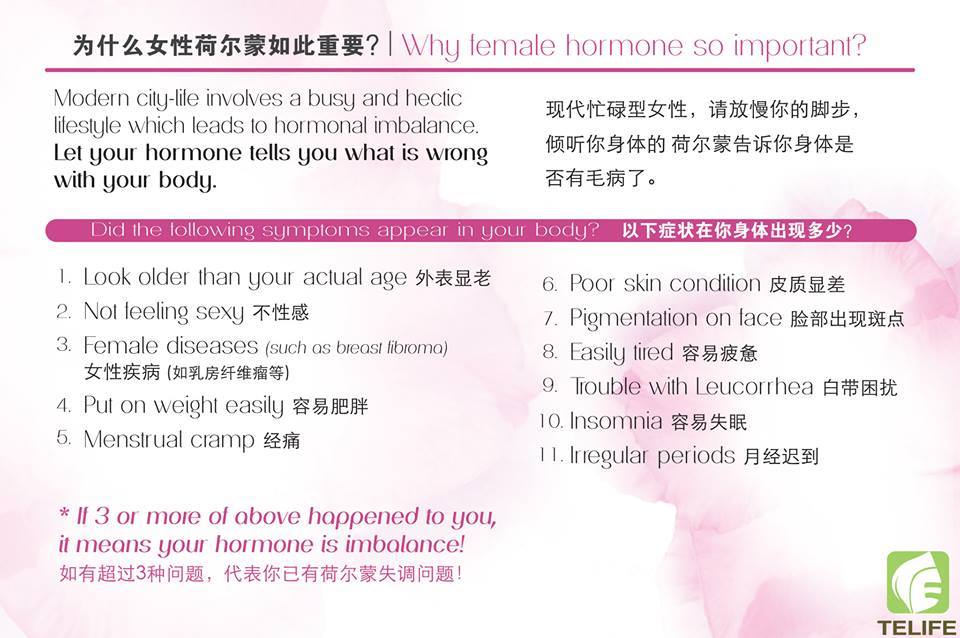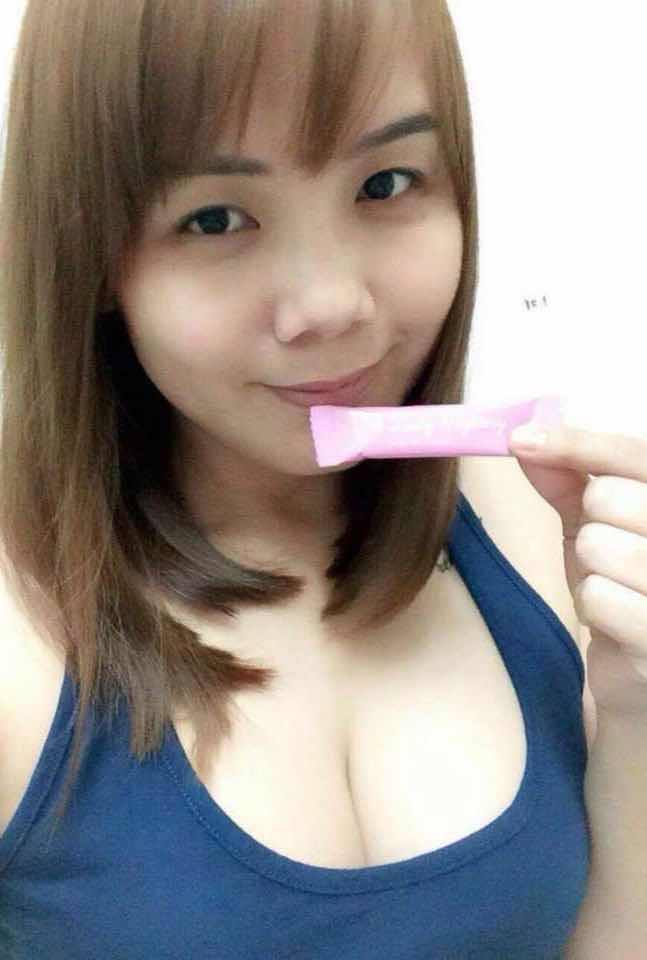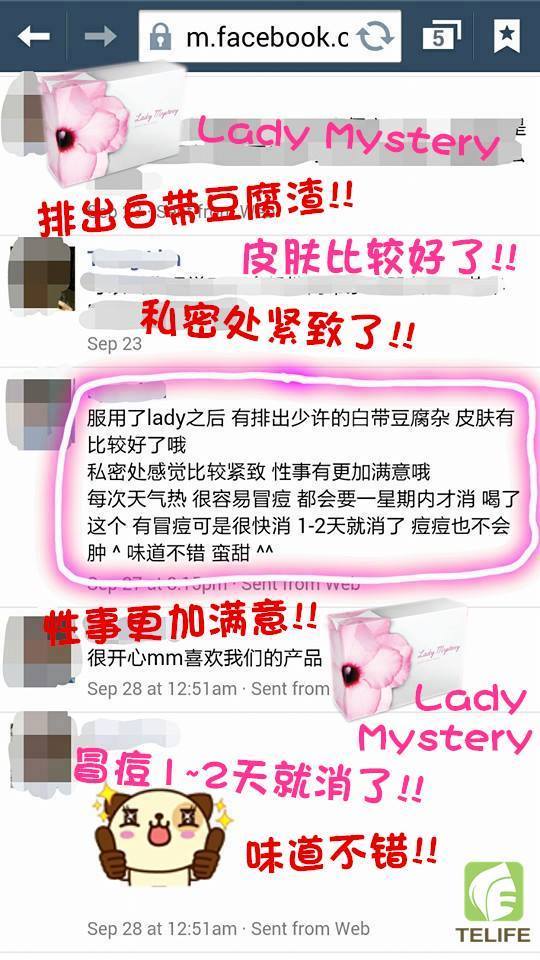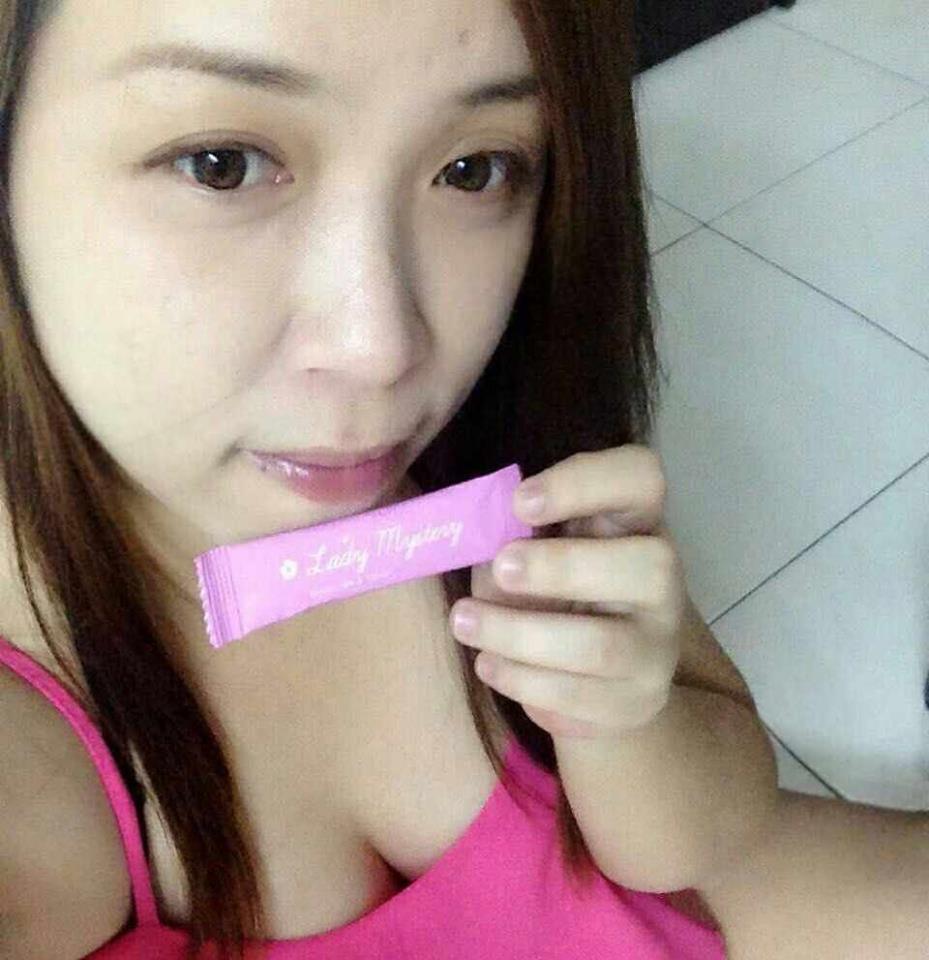 Customer comments
| Author/Date | Rating | Comment |
| --- | --- | --- |
---