Japan Formulated 45kilo™ [Halal] 100% Natural Healthy Detox Weight Loss & Slimming Supplement Diet Beverage 15gx15's

100% Natural Healthy Weight Loss

The most EASY, HEALTHY way to CUT WEIGHT, CUT INCHES!
Up to 5kg loss in 2 weeks and slimming results depend on individuals.


What is 45kilo?:
45kilo is a combination of all natural ingredients which allows you to achieve your dream physique and ideal weight.

Function / Effect of 45kilo:
- target fat burning around waist, abdomen, buttocks, thighs and arms which are common areas
- increase metabolic rate
- loss weight and provide better physique
- provide dietary fiber for daily intake
- improve bowel movement
- provide better digestive system
Nature's Precious Gift for a Healthy Weight-loss
Safe & steady weight-loss results.
Japan's most advanced extraction technology.
Variety of precious herbs collection.
Purely made from natural ingredients.
Non-toxic & does not cause side effects.
Developed to achieve weightloss results.
Recognition of Certificates :
Main ingredients for losing weight:
- Fucoxanthin
It accelerates the burning of fats and prevent accumulation of fats.
- Psyllium Husk
It improves digestion, enable easy bowel movement, prevent constipation and remove accumulated fats.
- Prebiotics
It helps to suppress appetite and burn fat.
It helps in digestive system.
- Senna
It helps burn calories rapidly and relieve constipation.
- Garcinia Cambogia
It helps to suppress appetite and burn fat.
- Guarana
It turns fat into energy, increases metabolic rate, suppress appetite and improves digestion.
- Fibregum
It helps in constipation.
- Wheatgrass
It helps to detox the body.
- Chlorophyll
It helps to improve the bowel movement and dissolve fat particles.
- Beneo
It helps to fight obesity and overeating.
2015 Updated Reviews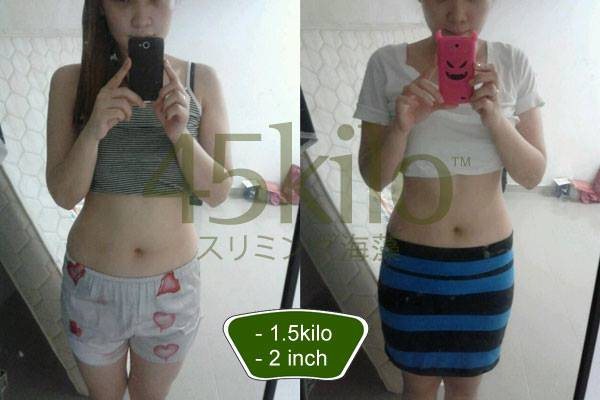 TESTIMONIAL FROM CUSTOMERS:
How long for effective visible result?
Within 15 days of consumption, you will gradually feel reduction around the abdominal area and your clothes will be loose.