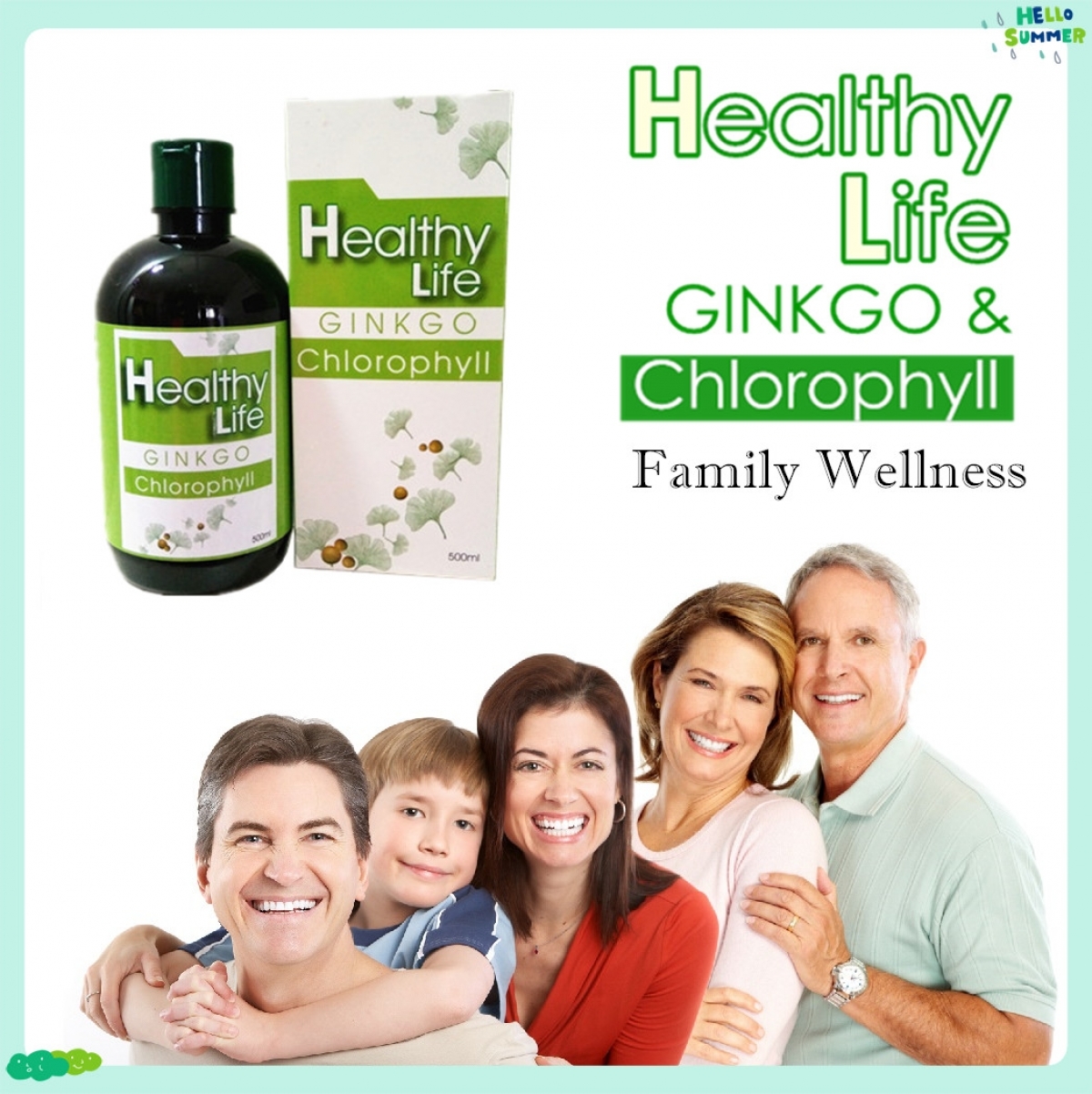 Healthy Life Family Wellness Ginkgo Biloba Chlorophyll Concerntrade Juice 500ml
Ingredients:
Purified Water, Chlorophyll, Ginkgo Biloba, Mint Flavour.

Direction for use:
Mix 1 or 2 table spoon (10-20ml) of Healthy Life with a glass of luke warm/cold water (130ml),
stir well and consume immediately.

Storage:
Store in a dry & cool place below 30'C. Refrigerate when opened.

Content:
500ML


Ginkgo Biloba
As we age, our bodies tend to become more easily deficient in vitamins and minerals. Some, like calcium, become especially important in avoiding diseases like osteoporosis which causes bones to become weak and brittle and much more prone to breaking. Omega-3 fatty acids help keep joints and bones strong and healthy, and zinc also plays an important role in strengthening the immune system.Others - like certain B vitamins, iron and folic acid - are also important to ensure that our blood remains strong and healthy, and to prevent anaemia from developing.Multivitamins are more important to the over-50's group than any other age group except children, some vegetarians and pregnant mothers, and a good combination multivitamin can make a significant difference to your general well-being.Ginkgo biloba has been renowned for thousands of years as a tonic that helps stimulate mental function and improves the memory, and Chinese traditionalmedicine has also used it for keeping the heart and lungs healthy, alleviating asthma and even treating chilblains.Because ginkgo has anticoagulant properties, it should be avoided by anyone with blood clotting problems, and also by anyone with abnormally low blood pressure or diabetes. Ginkgo biloba is the oldest living tree species – the tree could live up to 1,000 years. More than 40 components of the ginkgo biloba tree have been isolated and identified, but only two of them -- flavonoids and terpenoids -- are believed to account for Ginkgo biloba's beneficial health effects. Flavonoids are plant-based antioxidants, and studies have revealed that flavonoids protect the nerves, heart muscle, blood vessels, and retina from damage. Terpenoids aid blood flow by dilating the blood vessels and reducing the stickiness of platelets.
Top 5 Health Benefits of Ginkgo Biloba
Ginkgo biloba's natural health benefits have been recognized by practitioners of traditional medicine. They use the health benefits to treat circulatory disorders and enhance memory. The top five health benefits of ginkgo biloba are:
1) Dementia and Alzheimer's disease: Ginkgo biloba was used originally to regulate blood flow to the brain. Further studies revealed that it may protect nerve cells damaged by Alzheimer's disease. Many studies reveal that ginkgo biloba can improve memory and thinking in people affected by Alzheimer's or vascular dementia.
2) Intermittent Claudication: For people with intermittent claudication, it is very painful to walk. Published studies reveal that people taking ginkgo biloba can walk roughly 37 yards more than people taking a placebo.

3) Glaucoma: According to one study, people with glaucoma who took 120 mg of ginkgo biloba daily for eight weeks realized that their vision had improved.
4) Memory Enhancement: Ginkgo biloba is popular as a "brain herb." Studies have proven that it can improve memory in people with dementia. Ginkgo biloba is commonly added to nutrition bars, soft drinks, and fruit smoothies to boost memory and enhance cognitive performance.
5) Macular Degeneration: It is a progressive, degenerative eye disease that impairs the retina. It is one of the most common causes of blindness in the United States. The flavonoids found in ginkgo biloba may help cure or alleviate some retinal problems.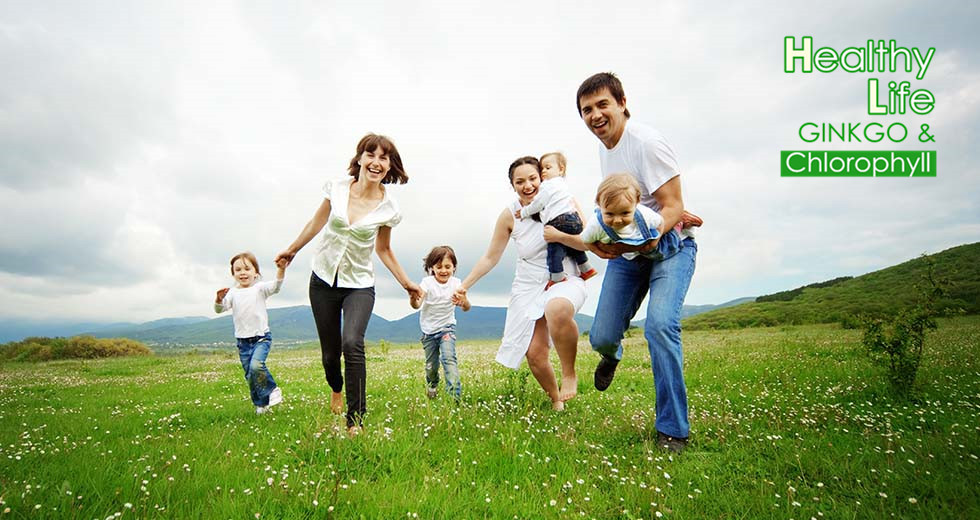 11 Proven Ginkgo Biloba Benefits
1. Increases Concentration
Research shows that ginkgo can help combat poor concentration, reverse cognitive decline and and heal fatigue. It's even useful for helping to treat cerebral insufficiency — a condition characterized by chronically low concentration, confusion, decreased physical performance, fatigue, headaches and mood changes.
Many of the brain-boosting ginkgo biloba benefits that researchers have discovered rest on the fact that it's an effective anti-inflammatory that increases antioxidant activity, lowers oxidative stress and improves circulation — all important factors for maintaining cognitive health.
When researchers from the Institute for Medical Psychology at the University of Munich tested the effects of ginkgo on healthy adults' mental performance over a four-week period, they found significant differences in self-estimated mental health as well as self-estimated quality of life between those taking ginkgo and the placebo group. This is true even though there were no existing differences between the two groups in terms of general health.
The group taking ginkgo experienced better motor performance and emotional health, and reported no known drug-induced side effects or intolerance. No serious adverse events were observed during the study overall, which suggests that ginkgo is a safe and effective way to boost mental capabilities with little risk.
2. Reduces Risk for Dementia and Alzheimer's
While not a total cure, overall scientific literature suggests that ginkgo biloba benefits people experiencing cognitive decline, including those with dementia of Alzheimer's disease (AD). Certain studies have found ginkgo can help improve cognitive performance and memory in both older and younger adults but might be especially useful for age-related mental decline.
Most studies have investigated the effects of ginkgo on lowering Alzheimer's symptoms in patients already undergoing standard AD treatment with cholinesterase inhibitor drugs (ChEIs). But when groups of AD patients taking additional ginkgo supplementation have been compared to those not taking ginkgo-combination therapy over at least a one-year period, significant differences in quality of life have been reported, according to scores on the Alzheimer's Disease Assessment Scale (ADAS-Cog) and Activities of Daily Living (ADL) Scale.
Ginkgo might be able to help people recover from strokes or traumatic brain injuries, too. In extract form, it's widely used in the treatment of acute ischemic stroke in China. When researchers from Beijing University of Chinese Medicine reviewed evidence from 14 randomized controlled trials involving brain injury patients, they found mixed results but reported that ginkgo biloba extract had positive effects on patients' neurological impairment and quality of life in nine of the trials.
Some studies have even found that in combination with antipsychotic drugs, ginkgo might be an effective supplemental treatment for people with schizophrenia and serious mental disorders. It also has the potential to improve cognitive function in people with multiple sclerosis (MS) — making it a potential natural treatment for multiple sclerosis— although more formal studies are still needed.
3. Helps Fight Anxiety and Depression
If you suffer from chronically high stress that's killing your quality of life, nervousness, depression or mood swings, ginkgo might be able to help. Research suggests ginkgo biloba benefits the body's ability to handle stressors and counteracts the effects of high levels of stress hormones, like cortisol and adrenaline.
Known as an adapotgen herb that naturally raises the body's ability to cope with trouble and worry, it might be especially helpful for people with generalized anxiety disorder (GAD) and possibly seasonal depression, panic attacks and social phobias, too.
4. Fights Symptoms of PMS
Some early research has shown positive effects of taking ginkgo on reducing PMS symptoms, including mood swings, headaches, anxiety, fatigue and muscle pain. It also appears to have beneficial effects on mood and cognition in postmenopausal women and can help improve similar symptoms.
One 2008 study published in the Journal of Alternative and Complimentary Medicinecompared the effects on ginkgo biloba in two groups of women that were similar in terms of demographic characteristics and baseline overall severity of PMS symptoms. After a six-month intervention with ginkgo, there was a significant decrease in the overall severity of physical and psychological symptoms in both the group taking 40 milligrams daily of ginkgo extract and the placebo group; however, a higher percentage of the ginkgo group (23.7 percent) had improvements compared to the placebo (8.7 percent).
5. Helps Maintain Vision and Eye Health
While more evidence is still needed, ginkgo appears to be beneficial for eye health since it improves blood flow to the eyes and fights free radial damage that can harm the cornea, macula and retina. It might be especially beneficial for older adults in preserving vision and lowering UV damage or oxidative stress to eye tissue.
Some studies have found ginkgo to be effective at lowering the risk for age-related macular degeneration thanks to its platelet-activating factors and prevention of membrane damage caused by free radicals. Vascular factors and oxidative damage are thought to be two primary causes of vision loss and other age‐related eye disorders, but antioxidant plants and herbs like ginkgo help mitigate these effects.


Customer comments
| Author/Date | Rating | Comment |
| --- | --- | --- |
---