France Formulated Natural Daily Detox Blackcurrent (3 Box)

Natural Daily Detox is a scientifically tested, effective and safest body detox supplement.

It is designed to enhance the body's natural metabolic detoxification process used by the body to transport, detoxify and excrete waste materials and other toxic substances from the body. The utilisation of kiwi and lemon is the first detox combination that published in the market and this make Natural Daily Detox become a pioneer detox supplements.

It challenges you to beat the record of 7 pounds lost in a week and promises to detoxify and sculpt your body. Try Natural Daily Detox to give your body the essential nutrients it needs to ensure you achieve optimal detoxification results.

You'll love the taste, the way it's work and the results!

Why choose Natural Daily Detox? Safe and effective 100 % natural ingredient with No preservatives, colouring, artificial sugar excellent source of dietary fibre, vitamins & minerals natural antioxidants suitable for vegan comprehensive inner cleansing program, ribena flavour, no diarrhea.

Natural Daily Detox act together as an effective body cleanse. This combination of detoxification and elimination works to cleanse your body, lose weight and feel great!

Benefits:
1. Improve bowel movement to bring out toxins
2. Neutralize stomach acidic & relieve stomach gas
3. Remove slugish waste materials on the intestinal wall
4. Disinfect, soothe and heal the mucous membrane lining
5. Reduce body weight

Suitable for all group of people. For kids advice to take half sachet and for pregnant women take within 2-3 days per sachet. Please get doctor advice if you are under medication.

Consumption:-One (1) sachet daily, pour into 100ml water, stir and consume before sleep.

法国 Natural Daily Detox (益生菌排毒)
? Natural Daily Detox 特点:

100%纯天然
Ribena口味,不使用shaker都能喝
不导致肚子绞痛
不含调味剂、色素、防腐剂或糖精
不含泻药成份

? Natural Daily Detox 功效 :

抗氧化,美化肌肤,使皮肤光泽丰润,延缓衰化。
增加人体抵抗力,促进入体新陈代谢。
降低血液胆固醇及控制糖尿病潜在冠状动脉心脏疾病之风险。
增加肠胃中的有益益菌,促进肠胃蠕动,降低结肠癌发生的风险。
有效促进体重下降,减肥,去水肿之功效。
获得马来西亚卫生部KKM许可证,绝对安全服用。
在GMP认证工厂下生产。
? 适合人群 :

女人,男人,老人,小孩7岁以上,孕妇,哺乳者都可服用
小孩每天半包
孕妇 2-3天一包
如消费者属于敏感体制,服用前请询问医生,效果因人而异

? Natural Daily Detox features:
100% natural
Ribena taste, do not need shaker to drink
Not causing any stomach cramps
Not contain flavorings , colorings, preservatives or saccharin
Not containing any laxative ingredients

? Natural Daily Detox effect:
Antioxidant , beautify the skin , rejuvenate the skin , Anti aging
Increase the body resistance , promote the body metabolism.
Reduce the risk of blood cholesterol and control diabetes underlying coronary heart disease.
Increase the beneficial bacteria in the stomach , promote gastrointestinal peristalsis, reduce the risk of colon cancer .
Effectively promote weight loss , weight loss ,and edema effect.

Ingredients:
Aloe Vera - Natural Anti Aging Agent
Grape Probiotics - Increase body resistance
Inulin - Increase the activity of beneficial bacteria in the intestinal tract
Psyllium husk - The most active dietary fiber
Alfalfa Extract - Anti oxidatio, beautify the skin

The Malaysia Ministry of Health, KKM permits ly safe to take .
Manufactured under GMP certified factory .

? for the crowd :
Women, men , old people and children 7 years of age, pregnant women, nursing mummies can take
Adult 1 pack per day
Children half a pack per day
Pregnant 2-3day per pack
If consumers are sensitive system , ask a doctor before taking effect varies

1 box contain 15 packs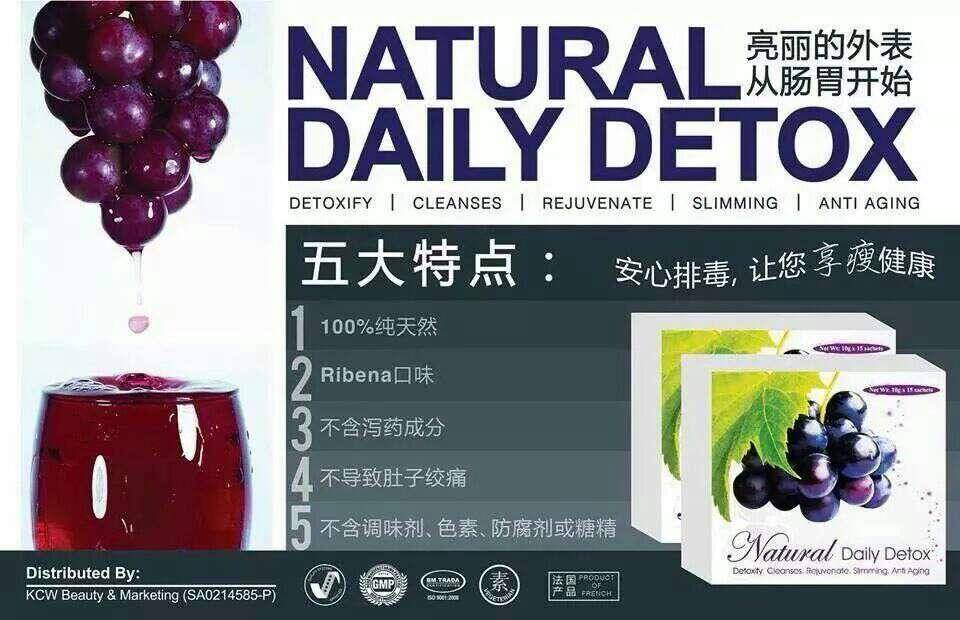 Customer comments
| Author/Date | Rating | Comment |
| --- | --- | --- |
---