[4Box Combo] Japan Formulated Shiro18™ Astaxanthin Collagen Powerful Anti-Oxidant and Age-Defense Formula Beverage 30sachet /box [4 month supply]
More than just Collagen - Best Antioxidant Ingredients from the World
Visible results after 2 weeks for most individuals!

The Secret of Aging Gracefully

Free Radicals is one of the major factors in causing skin problems.
They are organic molecules responsible for aging, tissue damage.

1) Pigmentation
2) Dark spots, uneven and dull skin tone,
3) Wrinkles
4) Blemish & Acne
5) Enlarged Pores
6) Unhealthy Hair


We are often exposed to various types of free radicals in today's environment
Our own body can also produce such radicals.

1) UV rays, air pollution
2)unhealthy lifestyles (smoking, lack of exercise), poor diet
3) Stress

Wonderful Effects of Shiro18:
Improve Pigmentation
Improve Wrinkles
Improve Blemish & Acne
Skin Whitening
Smaller Pores
Firmer Skin
Glowing & Dewy Skin
Healthier Hair

- Contains various effective antioxidant ingredients

- Remove free radicals in the body

- Non-toxic

- Easy to drink and taste good

Shiro18 is carefully formulated by combining expensive proven antioxidants to overcome concerns on skin aging. Greatly helps in eliminating free radicals within the body, thus achieving fairer and healthier looking skin . compared to other collagen products in the market produced usually using a single collagen base content , the ingredients of Shiro18 includes collagen and other proven powerful oxidants from all over th world:
L-Glutathione
Grape Seed extract
Blackcurrant extracMarine Collagen PeptideHyaluronic Acid
CoEnzyme Q10
Vitamin C and Vitamin E
Qoo10 CUSTOMER REVIEWS: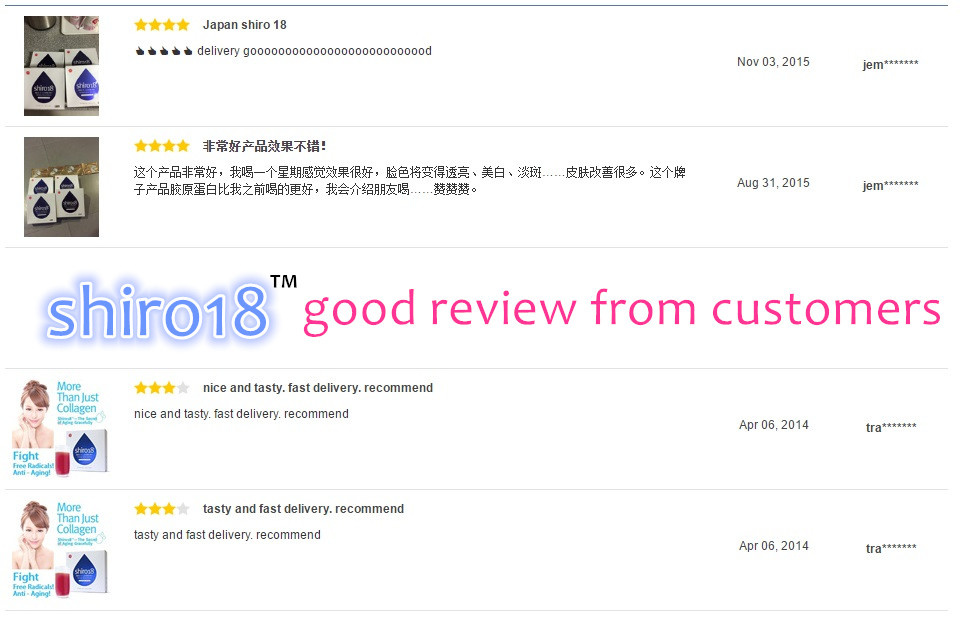 Main ingredients:
- L-Glutathione (for fairer & glowing skin by Kohjin Glutathione, Japan)
Most powerful antioxidant found in the body to build immune system against free radicals but due to lifestyle habits and aging, supply is often decline. It is difficult to get from food alone especially for those who lives an imbalance lifestyle habits. Stomach acid can break it down before your body can absorb it all. Effectives of other antioxidants depend on Glutathione, which helps them work longer and better.
With Glutathione, it prevents the formation of dark complexion melanin thus promotes skin brightness melanin. In general, Glutathione will improves face dullness, reduce wrinkles, lighten spots and increase skin elasticity and brightening, pores tightening, face clearness, moisture on body includes lips and ease of makeup.
Shiro18 only uses materials from Kohjin as they have over 30 years of experience in research and development of L-Glutathione in Japan. Using latest technology from Japan's Institute of Skin Pigmentation, Kohjin has developed an exclusive formulation to target most skin problems such as dull skin and stubborn dark spots.
- Marine Peptan Collagen (for skin nutrition to maintain youthful & vibrant skin by Peptan Hyrolyzed Collagen & Skin Health, France)
Shiro18 uses Peptan Collagen to increase amino acid in our body so that more Glutathione can be produced. Collagen is a primary connective tissue protein. The main key protein in the body that ensures the cohesion, elasticity and regeneration of skin, cartilage and bone. Peptan are type-1 hydrolyzed collagen, which is the same collagen found in human bones and hydrolyzed collagen is highly digestable.


Peptan contains more than 97% protein in a form that is easily digested by human body.
France is well known for high quality Marine Peptan Collagen which promotes collagen formation by stimulating skin cells, maintaining skin youthfulness, anti-aging and increasing skin elasticity.
- Grape Seed Extract (for radiant skin and antioxidant by ExGrape Seed, Breko Gmbh Germany)
Oligomeric Procyanidins (OPC) rich extract from French white grape seeds and are natural powerful antioxidants nutrient. ExGrape Seed OPC eliminates the body's free radicals, protecting body from harmful free radicals and anti-aging.
OPC also protects the skin from UV rays, in addition, grape seed extract also improves the skin elasticity and radiance, exfoliates, moisturizes, removing dark spots, wrinkles reduction, maintaining softness, eliminating acnes and scars healing.
Shiro18 uses the effective and highest quality grape seed extract from Breko Germany.
- All-Q plus CoEnzyme Q10 & Vitamin E (for skin protection against harmful effects of free radicals by DSM Nutritional Products, Switzerland)
CoEnzyme Q10 (CoQ10) and Vitamin E are highly effective hydro soluble antioxidant combination required by the human body. It strengthen the body's level of antioxidant.
Skin will look older and face wrinkle increases if the content of CoEnzyme Q10 in body reduces.
- Hyaluronic Acid (HA) (for cell regeneration, firmer and younger looking skin by Novozymes, Denmark)
Hyaluronic Acid (HA) has special moisturizing function. It is known as an ideal natural moisturizing factor (NMF) and is the best moisturizing preservative ever found in nature. The process of human skin aging depends highly on HA content and metabolism. HA enhances the metabolism of skin making it looks healthy, soft, smooth, wrinke-free, elastic, anti-aging and moist.
- Blackcurrant Extract (for maintaining healthier skin packed full with antioxidants, anti-inflammatory and detoxifier by NZ Blackcurrant Coop Ltd, New Zealand)
Blackcurrant contains a range of antioxidant compounds. Blackcurrant extract has high level of anthocyanins which helps to increase blood flow to the eyes and hydrogen peroxide oxidation that decrease dark circle and puffiness around the eye.
TESTIMONIAL FROM CUSTOMERS:
How long for effective visible result?
After 15 days of consumption, you will gradually feel skin elasticity becomes better, skin looks healthier, dullness and redness will reduce and pores will appear smaller. You will notice skin returning back to its adolescent radiance when consuming it for longer period.
Any attention required when taking Shiro18?
It is recommended to take some fruits, more vegetables and drink sufficient water daily. Reduce fried food and avoid sleeping late at night.

Is Shiro18 suitable for male and Female?
Yes. Both male and female can take this product.